In 2019, we prevented 5.6 million kgs of post consumer carpet from going into landfill around the world.

Do you know what happens with your used flooring, when you refurbish your space?
You could be throwing away more than you think or adding more carbon into the atmosphere without knowing.
With ReEntry, we make updating your flooring easy.
We take care of your old carpet and LVT tiles – and saving you a lot of hassle.
Why throw away what's valuable?
Every day, tonnes of carpet and LVT are discarded, with most of it ending up in landfill – or going into waste to energy. And much of it nowhere near the end of its working life. The resources and embodied carbon involved in the manufacture of quality flooring is a prised resource.
Don't let all the good work go to waste.
With ReEntry, we can create more value from used flooring.
We put them to good use. More importantly, we make sure they don't go into landfill.
A paradigm shift away from
Take, Make and Waste
to
Make, Use and Return
We design with purpose. Together we can close the loop by being responsible for our products at the end of their life and to eliminate our carbon footprint.

Future proof your assets. The next time you decide to make a purchase, here are some questions to consider.

How much of this product was made with recycled materials?
Is this product recyclable?
What is the recycling process once reclaimed?
What happens to the recycled material?
ReEntry: Ways to keep carpet out of landfill
We work with alternative options to create social and environmental value from your used carpets. So, whatever happens, you're putting your used carpet to use again. You're helping local communities and the environment by breathing new life into old products, and enhancing your organisation's sustainability credentials at the same time.

ReUse – Used as flooring again
ReCycle – Separated into all component materials to be reused into new flooring
ReEntry makes a real difference
By partnering with Interface and utilising our ReEntry service, it's easy to make a contribution and improve your sustainability performance.
We enable positive social and environmental impact.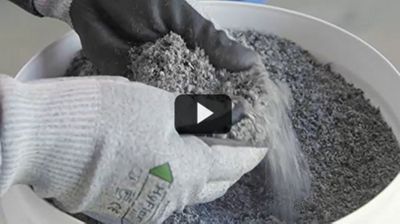 See how Knight Frank and Real I.S. were able to achieve their sustainability goals with Interface's ReEntry.
Want to know more?
After decades of hard work, Interface is poised to reach its Mission Zero
®
goals by 2020. With our new
Climate Take Back™
mission, we've set an even more ambitious goal – to reverse climate change and create a climate fit for life. Our commitment is to inspire and help you achieve your sustainability goals.
To find out how we can help create more value with your used carpet, contact your Interface account manager or contact us here.